Five stars are not enough to rate the splash pad at Brewer Park in Ottawa South.
It's probably closer to seven stars (out of five stars.) Five stars because there are so many water fountains and structures, six stars because it's so big that it takes up two levels, and seven stars because there's a water slide. Wow.
If you haven't been to Brewer Park, you need to go. Hanging out at this splash pad felt like we were at a destination resort. (The nice brown wooden chairs on the upper level are a nice touch.)
Our little girl took one look at the splash pad and said, "It's like Great Wolf Lodge." I see what she means. There's so much to do that I'm not sure where to begin:
There are two levels at the Brewer park splash pad connected by a giant blue water slide. That's right, I said water slide. There are two water jets at the top of the slide that you step on to turn on a stream of water that swishes you down to the bottom. Then you can climb the stairs right beside the slide to get back to the top.
The bottom level is controlled by a button on a red post that turns everything on. (It makes a chirping sound when you touch the button that reminds me of crosswalks.)
There are five blue water buckets that continuously fill up and dump water on the people below.
There are a bunch of water jets in the ground. Some of the jets blast a jet of water two stories high while other nozzles bubble little fountains for younger kids to play with.
The top level is controlled by a button on the ground in the middle of the splash pad.
There are a bunch of giant metal posts that squirt water in a variety of directions. You can turn the posts to direct the stream onto people. (It's similar to the water cannons that you find at some parks, but the water shoots up instead of directly forwards.)
The city bathroom facilities are nearby and include a water fountain
We came to Brewer Park on Saturday for the first time because some friends had recommended the awesomy goodness of this place. This place rocks.
If your kids need a break from the water park, there are a bunch of different play structures and slides to go down. Our little girl loved the fire truck play structure and had fun serving pretend ice cream at the other play structure nearby. We brought some friends on Sunday and their little guy checked out some of the play structures for older kids on the other side of the splash pad. His younger sister had fun exploring all of the stuff. I think both kids had fun going down the water slide. (When asked for a sound bite, our friends' daughter reported, "I liked the water slide")
Brewer Park is a busy place and has a constant stream of families coming in and out. The splash pad is so busy, we had to come back three times just to grab the photos we wanted to review this place. There are so many people enjoying the water park, that it's impossible to grab photos of the area and respect everyone's privacy, so we came back the next day.
We snuck out to the park early this morning on a daddy-daughter date trying to grab some better photos. That' when we realized that the water only gets turned on at certain times.
In case you're wondering, the City of Ottawa splash pad hours are usually between 9AM to 9PM according to their website. Today (Sunday), there was a city employee who opened up the bathroom and turned on the lower level water park at 8AM. I imagine the upper level was on a timer and turned at 9AM. When we came back a two hours later, the place was already packed, but we were able to grab a quick snap of the water slide with the water turned on.
Reading the inscription gives some background information on Rotary International
Rotary Centennial Playground: In 2005, the centennial of Rotary International, seven Ottawa Rotary Clubs, in partnership with the City of Ottawa, began renovation of this playground in Brewer Park. The task, in celebration of one hundred years of Rotary's service to international and local communities, was to provide Ottawa and the surrounding region with a playground for Children of All Abilities; one that both able-bodied children and children with disabilities could share. During the four-year renovation, old play structures were replaced with new and accessible structures and others were added. In addition to the Rotary Clubs, the City of Ottawa, many individuals, charitable foundations and local businesses contributed to the project and helped to make it a success. The playground, now called the Rotary Centennial Playground, evolved from two accessible play structures provided by the Community Foundation of Ottawa in 1989. Members of the Rotary Clubs of Ottawa, Ottawa Bytown, Ottawa Kanata Sunrise, Ottawa South, Nepean-Kanata, South Nepean and West Ottawa, are proud to present the Rotary Centennial Playground to the communities of Ottawa and the National Capital Region.
I think the park is a success. It's a wonderful destination splash pad and park for the community. (By the way, Rogers has 3 bars of LTE coverage here, so it seems like Brewer Park Splash Pad is the perfect water park.)
[splashpad_headline_card id=423]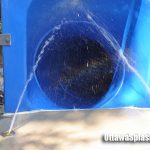 BREWER PARK Splash Pad