Portobello Park is great and the splash pad is very popular.
Lots of families playing today and a large day care group came by for lunch. Our daughter and her friend had a lovely picnic beside the splash pad.
There are several different water activities here:
There's a red post that looks a little like a fire hydrant. It has several nozzles shooting out water from the sides. At the top of the post is a giant black dome (button) that turns on everything at the splash park.
The Portobello park splash pad has a giant yellow pole that sprays a fountain of water from the very top.
There is a row of water fountains that shoot up from the ground.
Finally, there's a big blue water canon to spray your friends.
There's lots to like about this place. We liked how easy it is to turn on the water. Some splash pads have a button that is hard to hold in for the water to squirt (Chapman Mills splash pad, for example.). Portobello Park splash pad has a single black dome on top of the fire hydrant post that is touch activated so even little kids can turn on this splash pad (as long as they're tall enough to reach the top.) Sometimes the splash pad didn't turn on right away, so you could see kids rubbing the button trying to get it to magically turn on.
We also liked how pushing the button turned on the water for a few minutes. It cycled through two different patterns. First, the side water fountains from the floor would shoot up and you'd see lines of kids trying to stop the water by standing (or sitting) on the right spot. Then, after a while, those fountains would turn off and water would spray up from the top of the giant yellow pole. The blue water canon was always on and always popular with kids spraying each other or filling up water buckets to carry to the sandy play structure. It was a windy day, so it was nice to feel the mist from the park cool us down every now and then as we went down the slide on the play structure beside the splash pad.
Finally, I liked that the blue water canon only shot water into the water park. If you turned the canon to face people on the play structure, it only dribbled out water. That's a nice feature so that kids who didn't want to get sprayed with water could just make sure to stay out of range.
One of the downsides to the Portobello Park splash pad is that there's only one button that activates everything. The nice part of the splash pad at South Nepean is that there are several buttons for different parts of the splash pad. (Maybe that's because the water park at South Nepean park is so big that it doesn't make sense for everything to be controlled by a single button.)
There are two play structures beside the splash pad and they just put in a new swing set, so all in all, this is probably one of the better splash pads and parks in the city. (Then again, this is only the seventh splash pad that we've been to, so it might be too early to say. )
My wife made a comment driving home. "If we do splash pads this year, let's do parks next year."
I don't think we could do parks… There are parks everywhere. It would take forever.
"Sure we could. It'd be a very long project. We could start in spring…"
We'll see. Let's how our Ottawa splash pad adventure goes first.
[splashpad_headline_card id=483]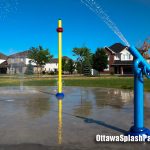 PORTOBELLO PARK Splash Pad