---
SEARCH BY WATER PLAY STRUCTURE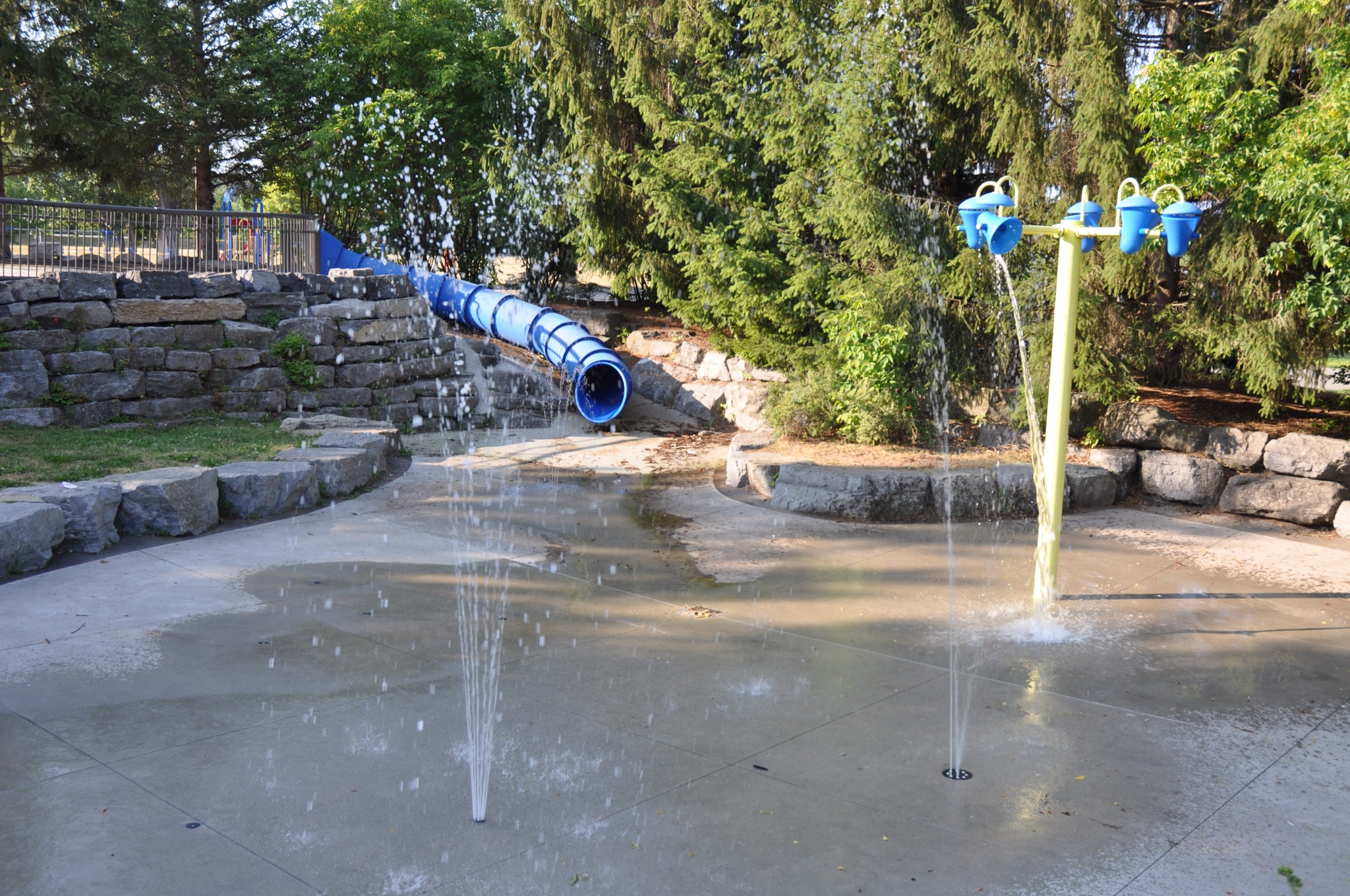 FUN IN THE SUN
Five stars are not enough to rate the splash pad at Brewer Park in Ottawa South. It's probably closer to SEVEN stars (out of five.)
Five stars because there are so many water fountains and structures. Six stars because it's so big that it takes up two levels. And, seven stars because there's a water slide and a nearby bathroom. Wow.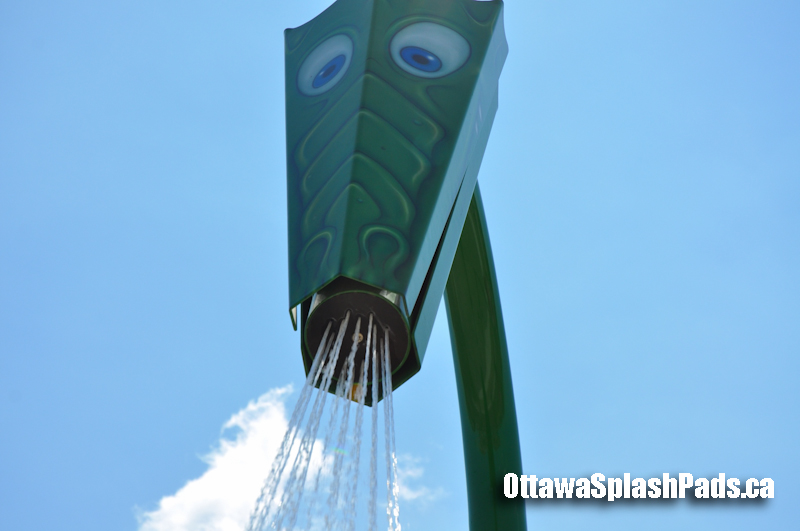 THERE BE DRAGONS HERE!
Chapman Mills Main Street Park Splash Pad in Barrhaven is something you don't see every day.
They have a giant green dragon!
The splash pad has a lot of jets. You will get wet for sure!
List of SplashPads in Ottawa
Here are the splash pads that we've been to so far!
Andrew Hayden (West) 3127 Carling Ave
Arnott Park (East) 691 Hartman
Bandmaster Park (West) 230 Mistral Way (AWESOME)
Banner Park (West) 90 Banner
Barrington Park (East) 1705 Orleans
Beacon Hill North Recreation Centre (East) 2132 Radford
Beechcliffe Park (West) 2 Beechcliffe
Ben Franklin Park: 188 Knoxdale
Big Bird Park splash pad: 936 Lawnsberry Drive
Billy Bishop Park (West) 1 Bishop Mills Way
Blue Willow Park (East) 6011 Longleaf
Bluegrass Park (West) 199 Bridgestone
Bordeleau Park (East) 349 Bruyere
Bradley Ridge Park (East) 221 Radhika Court
Brewer Park 100 Brewer Way (AWESOME)
Brookshire Park (West) 1035 Klondike Rd
Butterfly Park (East) 711 Long Point Circle
Canterbury Park (East) 2185 Arch Street
Cardinal Creek Valley (East) 2130 Bergamot Circle (AWESOME)
Cardinal Glen Park (East) 11 Dunbarton
Cedarcroft Park (East) 1200 Cedarcroft
Celebration Park (West) 200 Central Park
Centrepointe Park (West) 114 Centrepointe
Champagne Park (East) 1861 Markwell
Chapel Hill Park (East) 1556 Forest Valley
Chapman Mills Park (West) 139 Windhurst
Charing Park (West) 37 Chartwell
Citiplace Park (West) 285 Citiplace Drive
City Centre Park (East) 1800 City Park
Claudette Cain Park (East) 660 River Road
Crownridge Park (West) 290 Meadowbreeze Drive
Cummings Park (East) 980 Cummings Ave
Cyrville Park (East) 1420 Meadowbrook
DEER RUN PARK SPLASH PAD (West): 272 West Ridge Drive
Delorme Park (East) 6591 Delorme
Diamond Jubilee Park (East) 2810 Findlay Creek Drive (AWESOME)
Dr. John Hopps Park (East) 300 Den Haag
Elmridge Park (East) 1841 Elmridge
Emerald Woods Park (East) 3795 Alderwood
Fairfield Park (East) 49 Appleford
Fairlea Park (East) 2989 Fairlea Cres
Fallingbrook Park (East) 681 Deancourt
Fawn Meadows Park (East) 165 Meandering Brook
Fisher Park (West) 250 Holland Ave
Fountainhead Place (East) 105 Felicity Cres
Four Seasons Park (East) 4386 Spratt
Gardenway Park (East) 2001 Gardenway
Gerald Poulin Park (East) 1899 Du Clairvaux
Glebe Memorial Park (West) 75 Glendale
Glen Park (East) 1766 Grey Nuns
Greenbank Park (West) 895 Greenbank
Greenboro Park (East) 1505 Cahill
Half Moon Bay (West) 3525 Cambrian
Harrold Place Park (West) 1 Harrold Place
Heatherington Park (East) 1560 Heatherington
HENRI-ROCQUE PARK SPLASH PAD: 229 Hepatica Way
Hiawatha Park (East) 6218 Voyageur
Hibiscus Park (West) 990 Cobble Hill
Hintonburg Park (West) 1064 Wellington
Huntley Centennial (West) 108 Juanita (AWESOME)
Jasmine Park (East) 2040 Jasmine
Joe Jamieson Park (East) 6940 Bilberry
Joseph Vezina Park (East) 1070 Summer Days Walk
Kaladar Park (East) 2554 Kaladar
Kilbirnie Park (West) 665 Kilbirnie Drive
Kilreen Park (West) 1250 Southwood
Kiwanis Park (East) 395 Levis Avenue
Kristina Kiss Park (West) 100 Akerson
Laroche Park (West) 52 Bayview
Lawson Park (East) 491 Lawson
Leslie Park (West) Dayton Crescent
Lincoln Heights Park (West) 175 Lincoln Heights
Manor Park (East) 100 Braemar
Marcel Beriault Park (East) 1691 Sunview
McCarthy Park (East) 3320 Paul Anka
Meadowbrook Park (East) 1485 Meadowbrook
Montgomery Memorial Park (East) 61 Main
Morrison Park (West) 1095 Morrison
Mountain Meadows (East) 3740 Mountain Meadow
Nault Park (East) 325 St-Denis
New Edinburg Park (East) 193 Stanley
North Vineyard Park (East) 6026 Voyageur
Ouellette Park (East) 530 Strasbourg
Owl Park (East) 185 Owl
Palmerston Park (East) 1326 Ogilvie
Piazza Dante Park (West) 470 Booth
Pioneer Plains Park (West) 1018 Stittsville Main
Plouffe Park (West) 930 Somerset
Portobello Park (East) 670 Aquaview
Primrose Park (West) 179 Primrose Ave
Provence Park (East) 2085 Provence
Queensway Park (East) 1580 Telesat
Queenswood Heights Centennial Park (East) 1485 Duford
Queenswood Ridge Park (East) 346 Kennedy
Regatta Park (West) 150 Pennant
Richcraft Recreation Complex – Kanata (West) 4101 Innovation
Roy Duncan Park (West) 295 Churchill
Roy Park (East) 6210 Meadowglen
Russell Boyd Park (East) 1735 St. Bernard
Sheffield Glen Park (East) 2320 Southvale
Sieveright Park (East) 2999 Sable Ridge
Silverbirch Park (East) 6105 Silverbirch
Sir Wilfred Laurier Park (East) 288 Chapel
South Nepean Park (West) 700 Longfields (AWESOME)
Stanstead Park (East) 861 Stanstead
Stonecrest Park (West) 220 Stoneway
Stonehenge Park (East) 1434 Ridgebrook
Thornecliffe Park (East) 45 Provender
Tierney Park (West) 50 Heritage Glen
Turtle Park (East) 720 White Alder
Upcountry Park (West) 310 Upcountry
Vista Park (East) 720 Vista Park Drive
Walden Park (West) 130 Walden Drive
Walter Baker Park (West) 100 Walter Baker
Water Dragon Park (West) 424 Chapman Mills
Westcliffe Park (West) 681 Seyton
Whitehaven/George C. Brown Park (West) 970 Parkhaven
Whiterock Park (East) 1245 Matheson
Winterwood Park (East) 1844 Johnston Rd
Frequently asked questions about Ottawa Splash Pads and Spray Pads
Is this website run by the City of Ottawa?
No. This website (OttawaSplashPads.ca) is not affiliated with the City of Ottawa.
Here's the City of Ottawa website page about Splash Pads.
Who do I contact if there's a problem with a splashpad? (i.e. broken or water turned off)
Splash pads and parks in Ottawa are run and maintained by the municipal government (i.e. the City of Ottawa).
If there's a problem with a splash pad (i.e. park maintenance), you can file a 311 Report or Request with the City of Ottawa.
Who runs this website? (Ottawa Splash Pads.ca)
Ottawa Splash Pads.ca is run by a family that likes going to splashpads. (Read more about our story.)
We are not affiliated with the City of Ottawa in any way.
We just think splashpads are cool. And pretty.
The city of Ottawa website has a neat interactive map that lets you zoom into an area and see all of the splash pads. Their map is cool (pun intended) because it shows you which splash pads are accessible.
(Psst, we also have an interactive map of splash pads in the city that lets you search by water play structures at the park. Oh, and photos. Photos are cool.)
Note: Some of the information on our website comes from the City of Ottawa open data catalogue.
OttawaSplashPads.ca is a work in progress.
What is a splash pad / spray pad?
Splash pads (and spray pads) are urban areas for water play (Wikipedia).
Unlike outdoor pools or spray pools, there is no standing water so there and no lifeguards.
And, unlike larger water theme parks (like Calypso – which is reopening July 1), Ottawa splash pads are very low key. (And free)
Think of them as play structures that spray your kids with water!
How many splashpads are there in Ottawa?
In Ottawa, there are 144 splashpads.
The new splash pads are elaborate urban water parks with fountains, spray cannons, and dumping buckets.
The old splash pads are wooden posts with a trickle of water. Although over time, these old-school wooden post splash pads are being replaced with newer modern splashpads.
The newer Ottawa splashpads come in a few different sizes.
Some have only a few elements (i.e. one tall post with a dumping bucket and a few ground jets.)
Others (like Millennium park) have multiple zones with different water structures
When are Ottawa Splash Pads open in 2021?
The Province of Ontario allowed the City of Ottawa to open its' splashpads by Sat May 22, 2021. (Some splash pads in Ottawa were turned on before that.)
Last year, the City of Ottawa website stated that splash pads will be working between May 17, 2019 to September 15, 2019, depending on the weather.
They have not published when the 2021 splash pad season will end. (Last checked on June 25, 2021)
What time are splash pads open in Ottawa in 2021?
Splash pads in Ottawa are officially open from from 8 am to 9 pm daily.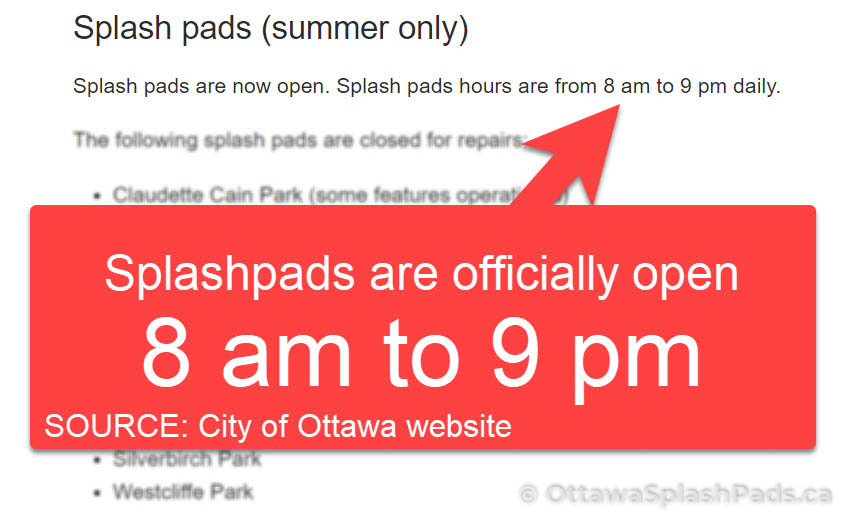 In our experience, sometimes the water might be turned on (or off) before or after the official hours.
Here's what we've learned since we started splash padding in 2012:
We've been to splash pads that have the water turned on all night (but that might not be the case any more.)
Other times, we've been to a splash pad at 10 am and the water still isn't on.
Some splash pads seem to run from 8AM to 8PM.
Just remember that things change.
The water at the splash pad might not be turned on, even though you're there at the right time!
You might end up visiting a splash pad in the city before the water gets turned on for the day.
Back in the day, the lower level splash pad at Brewer Park was turned on at 8AM. (But, we don't know if that's still the case!)
Which splash pads in Ottawa are closed in 2021?
Please note, the City of Ottawa website has posted a list of splash pads that are currently closed due to operational issues.
According to the City of Ottawa swimming page (last checked on June 25, 2021), the following splash pads are broken / the water is turned off.
The following splash pads are closed for repairs:

Claudette Cain Park (some features operational)
Greenboro Park and Community Centre
Fairfield park (some features operational)
Fisher Park (some features operational)
Kilreen Park
Millstone Park
Pioneer Plains Park (some features operational)
Sharel Park
Silverbirch Park
Westcliffe Park

SOURCE: City of Ottawa Swimming Page, checked on June 25, 2021
Why isn't this site updated more? (The story behind Ottawa Splash Pads.ca)
Hi, my name is Mike Fuchigami. I'm the guy behind this website.
I started this website with my family back in July 2012.
At the time, I was a grade 8 teacher. I was fortunate enough to pilot a class set of chrome books with my students. (This was back in the day when chrome books were first launched.)
As part of my English language arts program, I set up a blogging network for my class so they could create websites and practice literacy (and digital literacy) skills within the classroom environment.
Over the summer of 2012, I created this website to model for my students what a website could look like.
Back then, my family and I decided to be tourists in our own city. There were over 100 splash pads in Ottawa and we made a point to visit them all!
That was a lot of work for our little monkey, but it was an adventure we enjoyed.
Fast-forward to May 2021
Times have changed. My little girl is now in middle school. And, COVID 19 changed the world.
I've also changed.
In April 2018, my school Longfields Davidson Heights showed my grade 8 students and I a school play about bullying. In it, the main character gets bullied. He solves his problem by coming to school and shooting everyone.
I struggle with anxiety.
That school play triggered a mental health crisis that would end my classroom teaching career.
A lot of splash pads have changed and there are some fantastic new ones out there.
I've tried to update and reboot this website several times.
The reality is I haven't been able to carve the time to do it. But, I'm going to try to spend a little time each week working on this site.
Right now, I don't have a job. I'm spending all of my time slowly reinventing myself as someone who makes a living from the Internet.
(I sell teaching resources. I want to help empower students to survive and thrive in a changing 21st century world.)
We're heading into the summer of 2021.
If you're on this website, chances are you're a parent or guardian looking for a place to take your kid on a hot summer day.
I'm going to try a few new things to get me out the door and reviewing splash pads again.
Hopefully, this is the year that I get a chance to revisit some old favourites and check out the new pads that are popping up in the west and east ends of the city.
If you know of an awesome splash pad that I haven't reviewed yet (or need to update) – feel free to get in touch with me here.
Happy splashing and hope things are getting better for you and your people
Cheers, Mike
Ottawa Splash Pad news
We just finished visiting nine splash pads in four hours. Four hours, I tell ya. (And there were some cool ones.)
Our little trooper is singing Laurie Berkner songs in the back as we drive home from Nepean and downtown Ottawa.
"What's your favourite song?" I ask, after she's requested "Goodnight" for the fourth time in a row.
"This one."
"Why do you like it so much?"
"Because it says, 'little kid,' and I'm a little kid."
We love our little monkey. We're getting close to the end of our splash pad adventure. In just two more splash pads, we'll have visited every water park in the city. Not bad.
"Can we listen to it again," comes the fifth request.
Sure.
"Hey guys," clarifies our three year old daughter, "I don't just love this song I like all of the songs."
That's good, because we weren't sure how much we liked the Party DVD at first, but it's grown on us. Toddler crack.
"Hey guys," continues to clarify our little girl. "Actually I don't just love this CD, I love all of Laurie's songs."
I love how she's on a first name basis with Laurie now. And, just a few weeks ago, our daughter didn't realize she was a real person. We're heading down to New York in October, so maybe we'll get a chance to meet her in person.
I'm not sure if the splash pad at Bearbrook Park should count as a splash pad.
Sure, it's a nice modern splashpad with aqua domes, ground sprinklers and a red fire hydrant, but the splash pad is part of the outdoor swimming pool.
You have to pay to get in, and the splash pad is only available during pool hours.
That's why we snapped the photos from outside of the fence.
The splash pad does make Bearbrook Park a nice outdoor swimming pool. We've been swimming here before, but it's too cold this morning.
There's a wading pool for toddlers, a bigger pool for lane swimming, and a nice gradual pathway that winds around the splash pad for your little kids to play in.
The gazebo with the picnic tables is a nice touch, so it's a nice way to spend an afternoon.
[splashpad_headline_card id=418]
… is a wooden post.
A reader commented and told us this was a sad looking splash pad. And she's right.
"Back in the day, this is what they were like when I was a kid and we had fun," explained Mommy.
And, today, we have giant splash pad monstrosities like Diamond Jubilee and Chapman Mills Main Street Park.
We read some Dora, we slid on some slides, and off we go.
[splashpad_headline_card id=464]
The splash pad at Morrison Park is simple, but modern: a couple of ground sprinklers and a giant red post that sprays water.
It took three pushes on the start button before the pressure built up enough for the red post, but eventually it worked.
I think we had more fun going down slides on the play structure. All of these Nepean splashpads are pretty close to each other, so it's off to the next one.
[splashpad_headline_card id=475]
Wow. There's a dragon at the Leslie Park splash pad. Or, maybe it's a giant purple snake.
Either way, it's cool.
And, unexpected. The only other splash pad that we've seen with a dragon was Chapman Mills Main Street Park.
Leslie Park is a great place to spend the day.
Nice high powered splash pad – you're going to get soaked.
There's a little kid structure and a play structure for bigger kids
A lot of trees, but no gazebo or picnic table
Field and green space to run around
Easily accessible from surrounding streets
"What a little treasure," says Mommy as we drive away. "Easily accessible from surrounding streets."
With four splash pads down, and only seven more to do, we knew we could finish off all of the splashpads today. Challenge accepted.
[splashpad_headline_card id=468]
Three old red metal posts sit at the splash pad at Banner Park.
There's some drainage near the splashpad which kind of suggests that at one point, there was a lot more water going on here, but right now, it's only a trickle that comes out.
Overall, the park has some character – it's a lovely park. But, if you're looking for a splash pad, just drive a few minutes to Leslie Park splash pad to check out the dragon.
[splashpad_headline_card id=415]
We've been to the splash pad at Centerpoint Park before, but somehow didn't get a chance to write about it.
I'm going to guess we didn't get great pictures last time because this park is pretty busy. Lots of kids running around, and with good reason. It's a great park.
The splash pad has lots of interesting water structures. There's a flamingo, a whale, a cattail, and a dumping bucket (although it didn't work when we were there.)

Not all of the structures go on at the same time, so the water pressure can be quite strong in some of the structures.
There's a public washroom for those emergencies. (It's exactly what you would expect a public park washroom would be like.)
There are a lot of kids and their families hanging out today. The play structure is great because it has a little slide (for little ones) and a two-story high slide for older kids (or little ones with their grown-ups.)
Our three year old had fun checking out the splash pad. She had even more fun climbing up way too high to go down that tall slide.
[splashpad_headline_card id=431]
The splash park at La Roche totally caught us by surprise.
We were expecting some dinky little old wooden post, and instead, we find some of the highest water pressure geysers in the city.
There are three high powered spray loops to run through. We watched a little boy do it and get drenched.

The tri-arm water faucets rain down a pretty strong mist
The blue umbrella (which didn't turn on until the third push) pours down water on the sides
But the most impressive thing at this water park are the two ground geysers. Powerful.
The water pressure might be too high for little kids, but they also have a fire hydrant that's pretty low powered for your toddler. There's plenty of shade at this park and a gazebo by the play structures and field.
A clean park and an unexpected gem.
[splashpad_headline_card id=466]
The splash pad at Plouffe Park (beside Plant Recreation Centre) is the splash pad that you see on the city of ottawa recreation guide.
This urban water park has a lot going for it:
a modern splash pad: 4 rainbow spray loops, 21 sprinklers in the ground, a blue post with three arms, and a fire hydrant start

a gazebo with picnic tables
climbing play structure for kids,
and further on, there's a climbing polyhedron for older kids
This splash pad is right beside Plant Recreation center so you can use the clean washrooms in emergencies. The biggest hazard is that you're close to a lot of restauraunts so you might get hungry.
[splashpad_headline_card id=482]
The city of Ottawa added the splash pad at Piazza Dante Park to their list this year so we checked it out.
It's a true urban park – think of it as a water fountain that you can run through. It no water structures – just 8 jets in the ground.
Pretty.
We read some Dora and then went home. Two more splash pads to go before we've visited all of them.
Woo hoo.
[splashpad_headline_card id=927]